George Floyd protests spread nationwide
7:10 a.m. ET, May 29, 2020
Breaking: CNN team arrested by Minnesota police on live television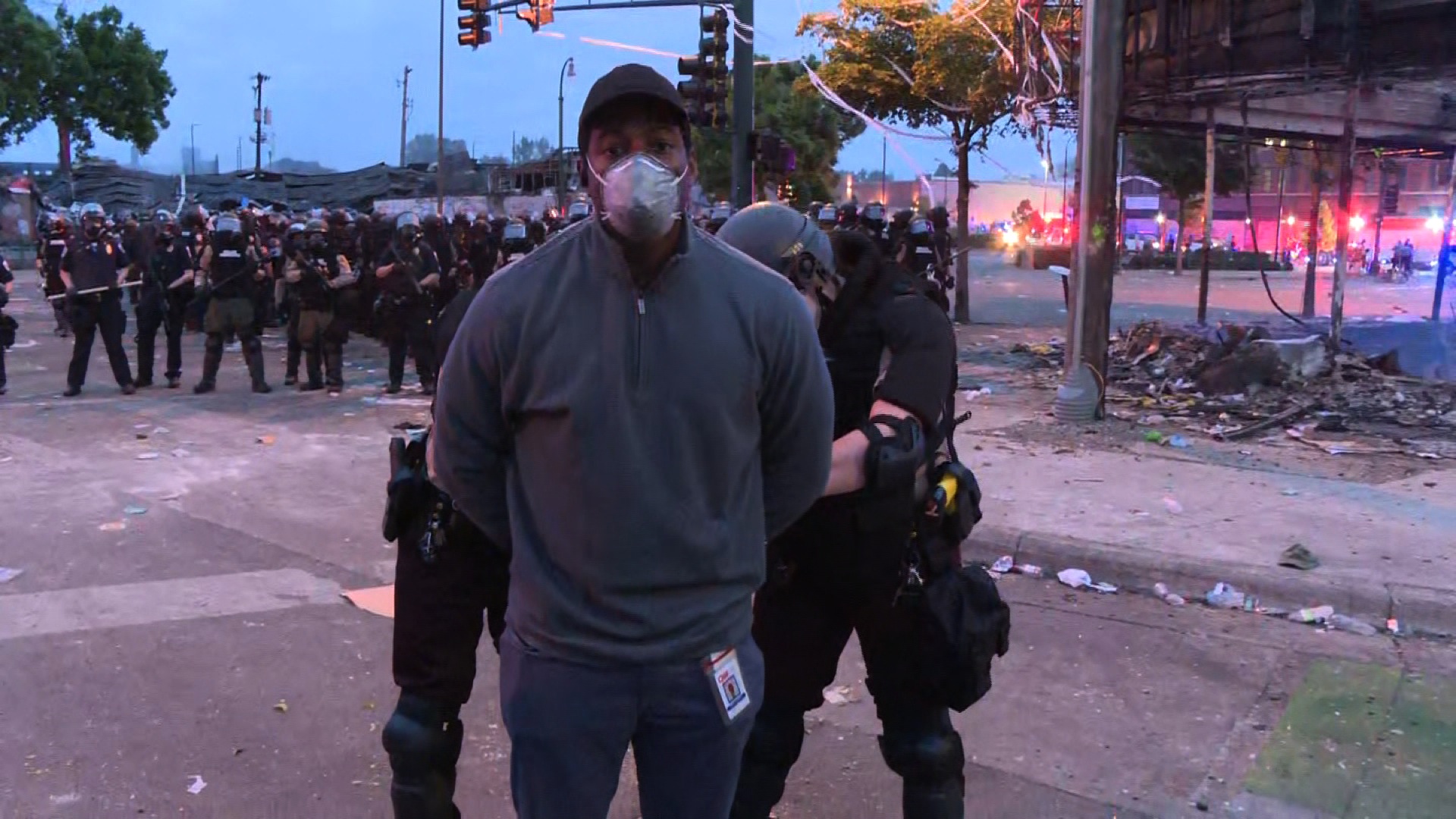 CNN journalist Omar Jimenez has been taken into police custody during a live broadcast at the site of the protests in Minneapolis, after clearly identifying himself to officers.
Jimenez's crew, including a producer and a camera operator, were also placed in handcuffs.
The CNN camera was also taken into custody and continued to record as the crew was handcuffed, with police seemingly unaware that the camera was still on.
Watch the video here:
6:04 a.m. ET, May 29, 2020
Chaotic scenes as police clash with protesters in Minneapolis
From CNN's Omar Jimenez in Minneapolis
Dramatic scenes have unfolded in Minneapolis after the police arrived on the scene and clashed with protesters. It was the first time authorities had been seen on the scene in more than an hour.
The police officers, some in riot gear, immediately launched into action, using pepper spray and batons to disperse crowds near the police station. Police were seen shoving at least one person, while protesters responded by throwing projectiles at the officers as others fled the site.
Watch:
5:44 a.m. ET, May 29, 2020
Breaking: Police, fire engines arrive at Minneapolis protests
Police and fire engines have arrived at the epicenter of the protests in Minneapolis, where a number of buildings have been burning.
CNN crew on the site witnessed the authorities arriving to the scene just after 4:30 a.m. ET.
5:51 a.m. ET, May 29, 2020
It's 4:30 a.m. in Minneapolis. Fires are still burning and protesters are still in the streets 
From CNN's Omar Jimenez and Bill Kirkos in Minneapolis
A large number of protesters are still out early this morning in Minneapolis and a number of buildings are on fire.
Hundreds of people are still protesting near the Minneapolis police building in the 3rd Precinct.
At least five other buildings in the vicinity of the station are in flames. One of the burning structures that has now been destroyed by the fire was an events space with a multiple restaurants about a block away from the police station. A liquor store across the street from the station has also been burned down.
5:48 a.m. ET, May 29, 2020
Minnesota National Guard deployed soldiers last night
The Minnesota National Guard tweeted late last night that they had activated more than 500 soldiers to St. Paul, Minneapolis and surrounding communities. 
When asked about the National Guard, Minneapolis Mayor Jacob Frey said "many of the National Guard as I mentioned were stationed and are being stationed at locations to help prevent some of the looting that we've seen." 
Some of the locations where the National Guard is being positioned include banks, grocery stores and pharmacies. 
5:51 a.m. ET, May 29, 2020
Just joining us? Here are the latest developments on the George Floyd case
Protests spread across the United States for the third night in a row on Thursday, as crowds demonstrated against police brutality and called for justice in the death of George Floyd.
Floyd, a 46-year-old black man, died after pleading for help as a white police officer pressed his knee on Floyd's neck for several minutes while pinning him to the ground. Floyd was declared dead at a nearby hospital soon after, according to authorities.
Here's a look at the biggest developments:
Minnesota protests: Floyd died in Minneapolis, which saw large-scale protests on Thursday. Crowds numbering in the thousands set fire to a police precinct, which had been evacuated earlier in the day. In nearby St. Paul, protesters and police faced off with tear gas. More than 170 businesses were damaged or looted, according to police, and the Minnesota National Guard was mobilized to both cities.
Nationwide outrage: It wasn't just Minnesota; protesters took to the streets in Denver, Colorado; New York City; Memphis, Tennessee; Phoenix, Arizona; and Columbus, Ohio.
Trump and Twitter: President Donald Trump tweeted about the Minnesota protests, saying "when the looting starts, the shooting starts." Twitter has since flagged the tweet as violating the platform's rules and "glorifying violence."
Investigation into the death: Local and federal officials have not announced any charges against the officers involved in Floyd's death, but said the investigation is a top priority. All four officers have invoked their Fifth Amendment right against self incrimination.
Federal call for action: The House Judiciary Committee urged the Justice Department to investigate, saying the federal government has a critical role to play in promoting a culture of accountability for all law enforcement organizations.
The officer who knelt on Floyd's neck: The officer, Derek Chauvin, had 18 prior complaints filed against him with the Minneapolis Police Department's Internal Affairs. It's unclear what these complaints were for.
4:01 a.m. ET, May 29, 2020
More than 40 people were arrested or summoned in New York during Thursday's George Floyd protests
From CNN's Mark Morales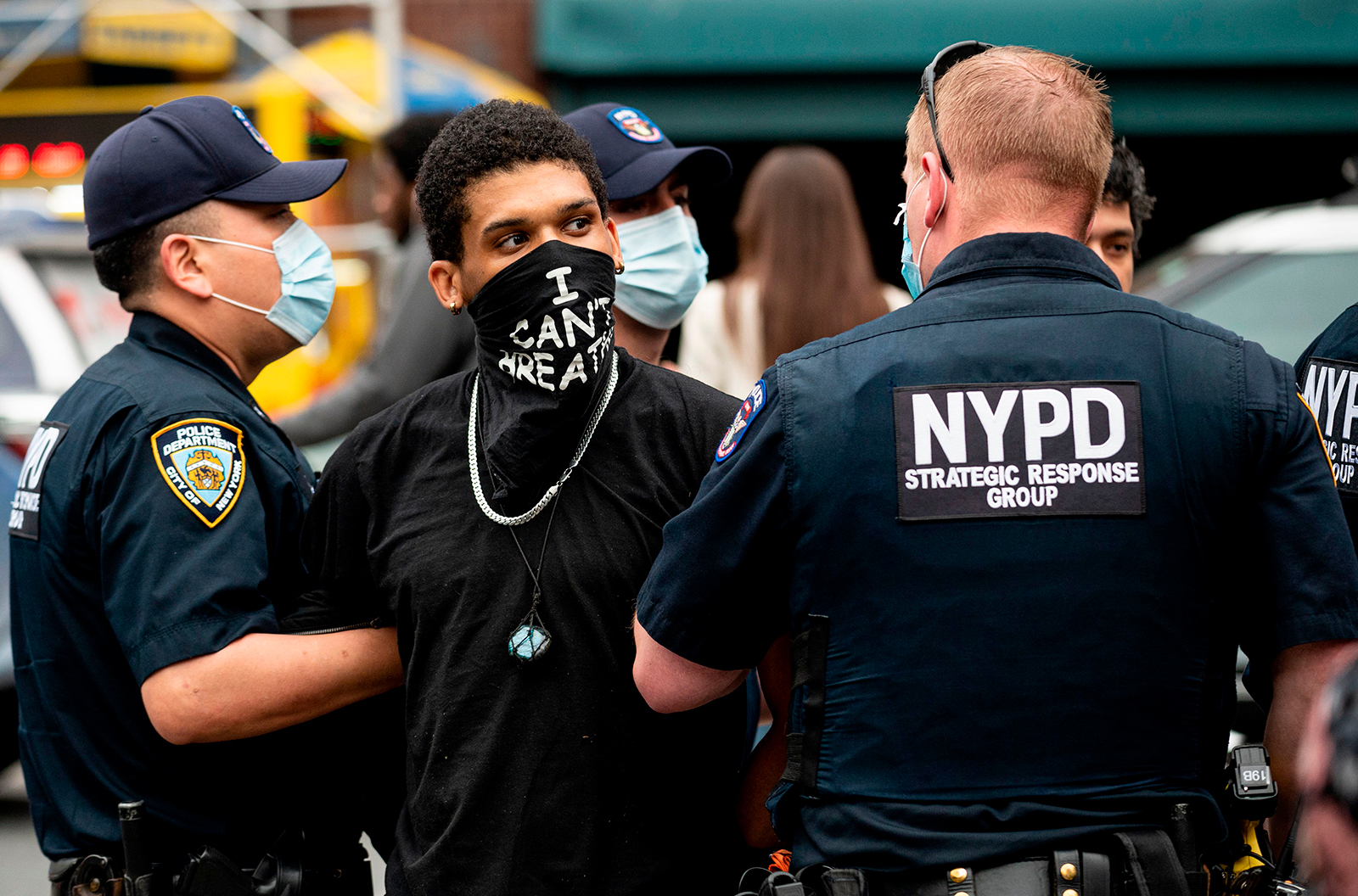 The New York Police Department carried out more than 40 arrests and summons during the George Floyd protests on Thursday, police told CNN.
The charges range from obstruction of governmental administration to criminal possession of a weapon, which stemmed from a woman who pulled a switchblade at Union Square, said a law enforcement official.
One protestor was also arrested after trying to yank the gun out of a New York Police officer's holster, the official said.
According to the official, one of the injured officers suffered a possible concussion.
Demonstrators were protesting the death of George Floyd, who died after pleading that he couldn't breathe while a police officer held him down with his knee.
3:57 a.m. ET, May 29, 2020
Twitter flagged Trump's tweet about shooting looters as violating rules on "glorifying violence"
From CNN's Brian Stelter
US President Donald Trump's tweet on the protests in Minnesota, which he posted earlier tonight as protesters set fires in St. Paul and Minneapolis, has been flagged by Twitter as violating the platform's rules.
The original tweet read:
"These THUGS are dishonoring the memory of George Floyd, and I won't let that happen. Just spoke to Governor Tim Walz and told him that the Military is with him all the way. Any difficulty and we will assume control but, when the looting starts, the shooting starts. Thank you!"
Twitter's response: The tweet is hidden by a notice from Twitter -- but is still viewable behind the notice.
"This Tweet violated the Twitter Rules about glorifying violence. However, Twitter has determined that it may be in the public's interest for the Tweet to remain accessible," says the notice.
A separate statement from the official Twitter Communications account explained that the tweet had been flagged "based on the historical context of the last line, its connection to violence, and the risk it could inspire similar actions today."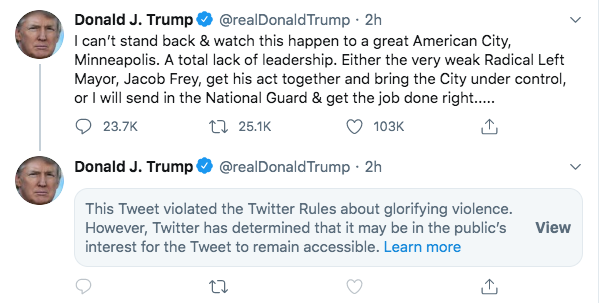 The warning message will likely fuel Trump's ongoing dispute with Twitter. Just yesterday, Trump signed an executive order targeting social media companies, days after Twitter called two of his tweets "potentially misleading."
On Tuesday, Twitter applied a fact-check to two of Trump's tweets, including one that claimed, without evidence, that mail-in ballots would lead to widespread voter fraud. Trump immediately shot back, accusing the social media giant of censorship and warning that if it continued to offer addendums to his messages, he would use the power of the federal government to rein it in, or even shut it down.
Tech companies are also pushing back on the order; Facebook and Google have said Trump's proposal risks harming the internet and the wider digital economy.
3:14 a.m. ET, May 29, 2020
In photos: Protests spread across America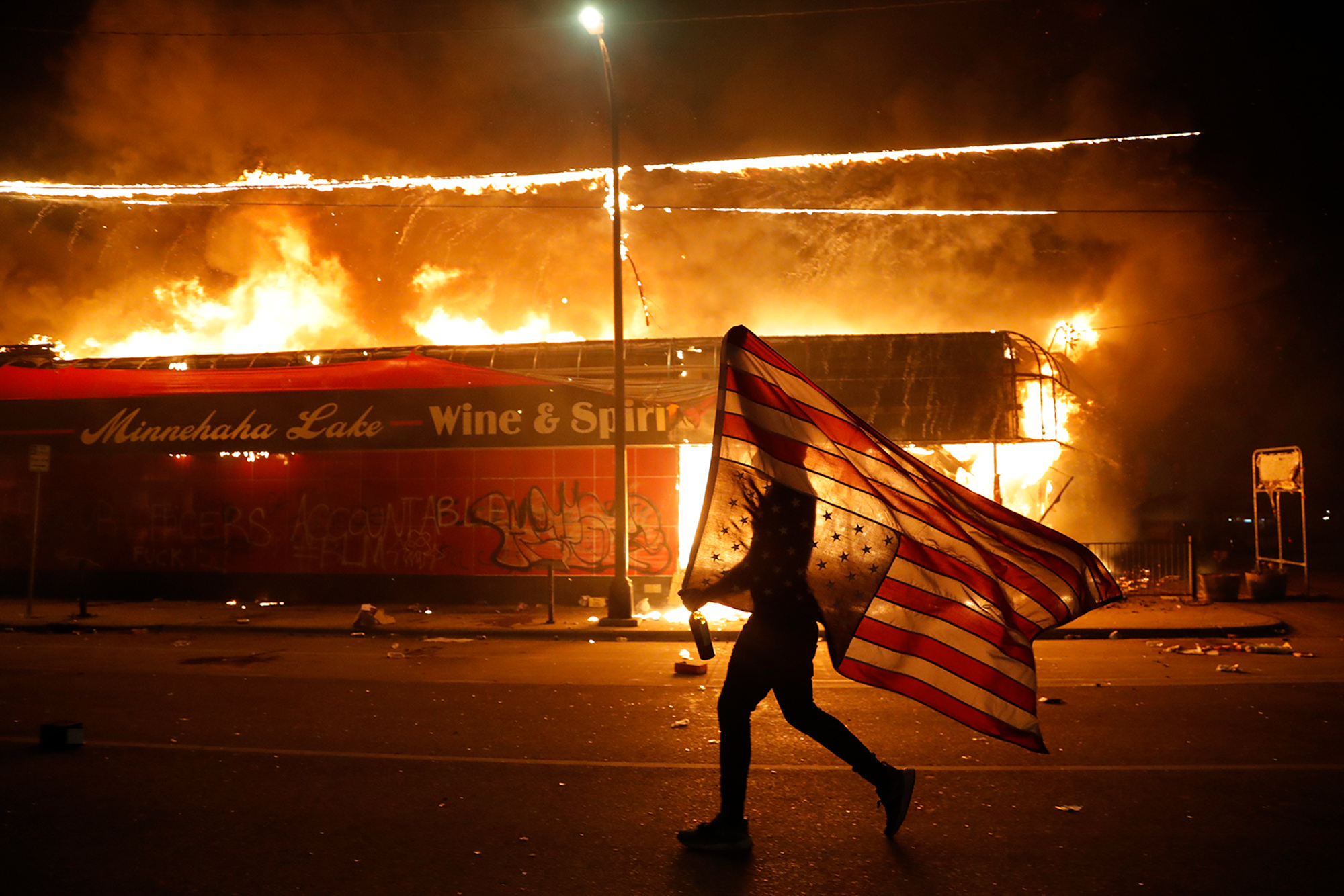 Protests swept across a number of major American cities on Thursday, with crowds taking to the streets to demand action against police brutality and accountability for several related deaths.
Minneapolis and St. Paul, known as the "Twin Cities" of Minnesota, both saw huge protests. In St. Paul, protesters faced off against riot police, batting tear gas canisters back and forth. More than 170 businesses were looted or damaged by the protests, police said.
And in Minneapolis, thousands of protesters surrounded a police precinct and set it on fire. They spray-painted the sides of the building, tried to climb up it, and cheered as the flames engulfed the building.
All staff inside had been evacuated prior to the fire.
In Memphis, Tennessee, protesters marched through midtown for several hours. They held up signs demanding justice for several black Americans who had recently been killed -- George Floyd, Ahmaud Arbery, and Breonna Taylor.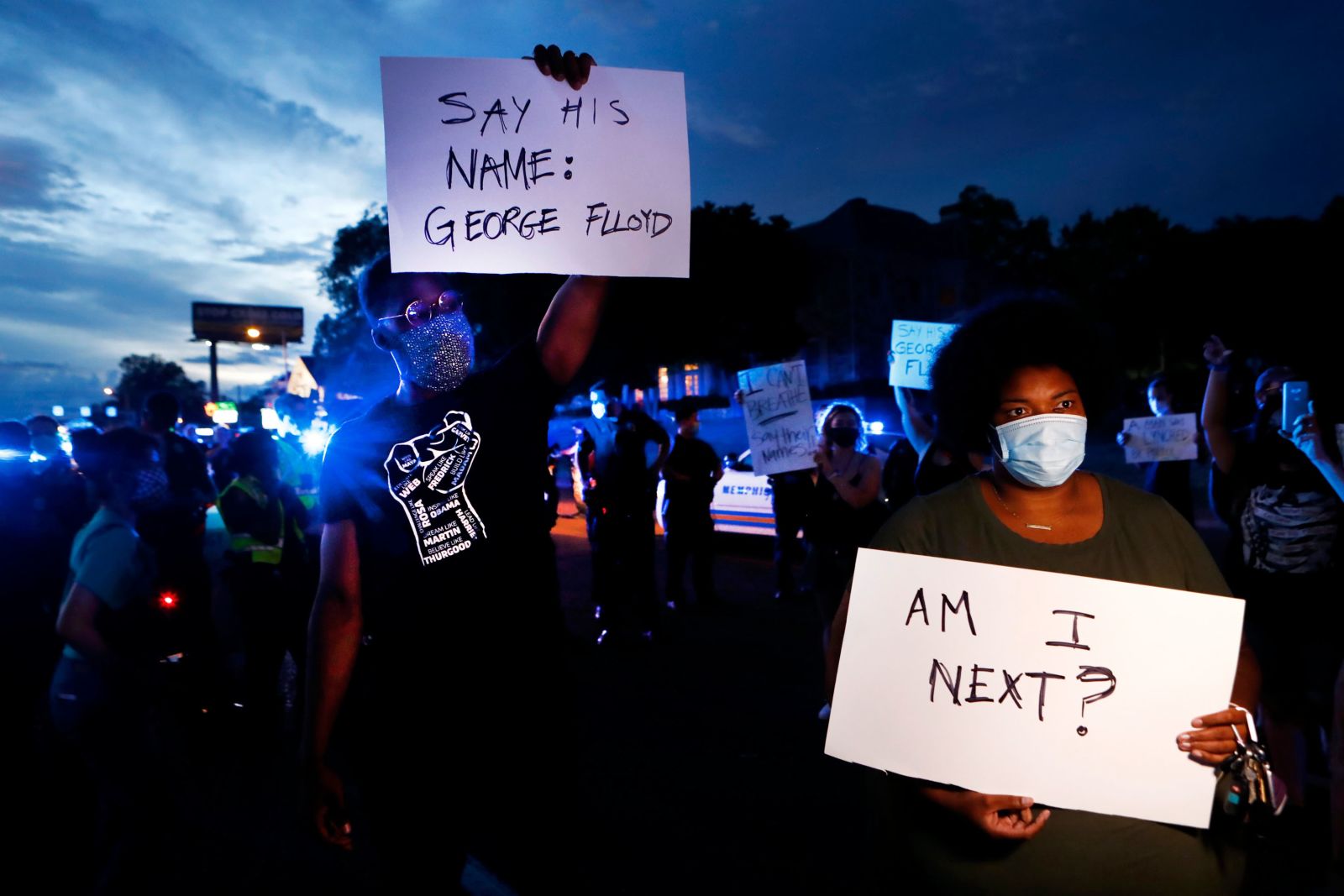 The protests also escalated into violence in Louisville, Kentucky, where Taylor lived and was shot by police in March.
Shots were fired in the crowd during the protests tonight, said police special advisor Jessie Halladay.
Protests also took place in other cities like Denver, Colorado, and Phoenix, Arizona.
See the full gallery of protests across the US: